Car and Light Van Security Systems

Protect your vehicle with the leading name in electronic vehicle security. All Laserline systems combine advanced technology with intelligent software to provide the ultimate in quality vehicle protection. Add to this the lifetime product warranty (Subject to Terms and Conditions) and Italian design and you can look forward to years of stylish as well as safe, secure motoring.
All units are installed to your vehicle by time served auto electrical technicians. This combined with the manufacturers warranty ensures peace of mind well into the future.
Please call for current fitted prices quoting vehicle type, make and year of manufacture.

Model Number: Laserline 213
Modular Thatcham Category 1 Alarm/Immobiliser
Thatcham Approval Number: TC2 – 1367/0506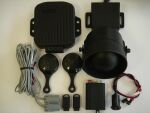 Features:
2 Random code 3 button carbon remote controls with long life lithium batteries
Automatic setting of dual circuit immobilisation
Panic facility
High power waterproof battery back-up siren
Ultrasonic interior sensors (switchable)
2 Override touch keys with arm and disarm facility
Passive arming
Casual re-arm
Universal central locking with comfort closure capability
Flashing interior L.E.D included with override receptacle
Indicator flash
Lifetime product warranty (Subject to Terms & Conditions)
---


Model Number: Laserline 291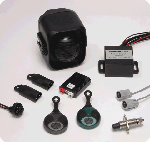 Compact Thatcham Category 1 Alarm/Immobiliser
Thatcham Approval Number: TC2 – 1200/0201

Features:
2 Random code 3 button remote controls with long life lithium batteries
Automatic setting of dual circuit immobilisation
Panic facility
High power battery back-up siren
Ultrasonic interior sensors (switchable)
2 Override touch keys with arm and disarm facility
Passive arming
Casual re-arm
Universal central locking with comfort closure capability
Flashing interior L.E.D included with override receptacle
Indicator flash
Lifetime product warranty (Subject to Terms & Conditions)
---


Model Number: Laserline 212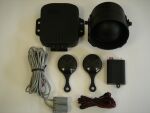 Modular Thatcham Category 2:1 Alarm Upgrade
Approval Number:TU2-1368/0506
Modular Thatcham Category L2:1 LCV Alarm Upgrade
Approval Number:TUL1-134/0506

Features:
2 Random code 3 button carbon remote controls with long life lithium batteries
Panic facility
High power waterproof battery back-up siren
Ultrasonic interior sensors (switchable)
Passive arming
Casual re-arm
Pin code override facility
Universal central door locking with comfort closure capability
Flashing L.E.D
Indicator flash
Option to add touch key/receptacle override using 321 kit
Lifetime product warranty (Subject to Terms & Conditions)
---


Model Number: Laserline 290i2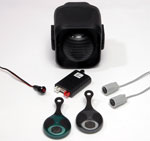 Compact Thatcham Category 2:1 Alarm Upgrade
Approval Number:TU2-1183/1100
Compact Thatcham Category L2:1 LCV Alarm Upgrade
Approval Number:TU2-45/1200

Features:
2 Random code 3 button remote controls with long life lithium batteries
Panic facility
High power battery back-up siren
Ultrasonic interior sensors (switchable)
Passive arming
Casual re-arm
Pin code override facility
Universal central door locking with confort closure capability
Flashing L.E.D
Indicator flash
Option to add touch key/receptacle override using 621 kit
Lifetime product warranty (Subject to Terms & Conditions)
---


Model Number: Laserline 278
Compact Thatcham Category 2-1 Upgrade Alarm System. Utilises the Original Equipment Remote Controls, Tested to Issue 2 Criteria when Combined with a Category 2 or L2 Immobiliser
Approval Number:TU2-1369/0506 - Passenger Cars
Approval Number:TUL1-135/0506 - LCV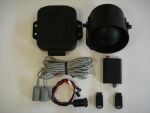 Features:
Utilises the original equipment remote controls
High power waterproof battery back-up siren
Ultrasonic interior sensors with override facility
Passive arming
Casual re-arm
2 Override touch keys with disarm facility
Flashing interior L.E.D included with override receptacle
Indicator flash
Confort closure capability on specific vehicles
Lifetime product warranty (Subject to Terms & Conditions)
---


Model Number: Laserline 270UK
Compact Thatcham Category 2-1 Upgrade Alarm System. Utilises the Original Equipment Remote Controls, Tested to Issue 2 Criteria when Combined with a Category 2 or L2 Immobiliser
Approval Number:TU2-1245/0302 - Passenger Cars
Approval Number:TUL1-75/0302 - LCV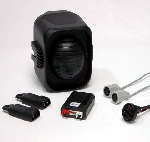 Features:
Utilises the original equipment remote controls
High power battery back-up siren
Ultrasonic interior sensors with override facility
Passive arming
Casual re-arm
2 Override touch keys with disarm facility
Flashing interior L.E.D included with override receptacle
Indicator flash
Confort closure capability on specific vehicles
Lifetime product warranty (Subject to Terms & Conditions)
---


Model Number: Laserline 921K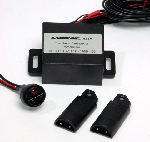 Thatcham Category Two Immobiliser
Thatcham Approval Number: TE2 – 1188/1100

Features:
2 Override touch keys for disarming
Flashing interior L.E.D included with override receptacle
Automatic setting of dual circuit immobilisation
Heavy duty immobilisation relays
Pin code override facility
Slimline control unit
Lifetime product warranty (Subject to Terms and Conditions)
---


Model Number: Laserline 921T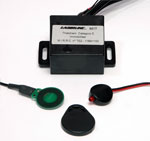 Thatcham Category 2 Transponder Immobiliser
Thatcham Approval Number: TE2 – 1189/1100

Features:
The short-range reader is normally located in a convenient and covert location within the vehicle.
This makes it difficult to disarm the system unless the location of the reader is known
Supplied with 1 Transponder tag and 1 credit card transponder
Flashing L.E.D
Automatic setting of dual circuit immobilisation
Heavy duty immobilisation relays
Pin code override facility
Slimline control unit
Lifetime product warranty (Subject to Terms and Conditions)
---


Model Number: Laserline 211UK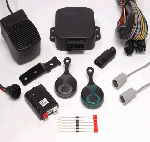 Modular Alarm

Features:
2 Random code 3 button remote controls with long life lithium batteries
Single circuit immobilisation
Panic facility
Mini high powered siren
Ultrasonic interior sensors (switchable)
Touch key override with arm and disarm capability
Passive arming
Casual re-arm
Passive immobilisation
Universal central door locking with comfort closure capability
Flashing interior L.E.D included with override receptacle
Indicator flash
Lifetime product warranty (Subject to Terms and Conditions)
---


Model Number: Laserline 211BUK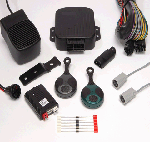 Modular Alarm

Features:
2 Random code 3 button remote controls with long life lithium batteries
Single circuit immobilisation
Panic facility
High powered battery back-up Siren
Ultrasonic interior sensors (switchable)
2 Override touch keys with arm and disarm capability
Passive arming
Casual re-arm
Passive immobilisation
Universal central door locking with comfort closure capability
Flashing interior L.E.D included with override receptacle
Indicator flash
Lifetime product warranty (Subject to Terms and Conditions)
---


Model Number: Laserline 288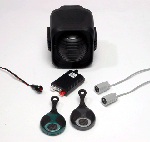 Compact Alarm

Features:
2 Random code 3 button remote controls with long life lithium batteries
Panic facility
Single circuit immobilisation
High power siren
Ultrasonic interior sensors (switchable)
Passive arming
Casual re-arm
Passive immobilisation
Universal central locking with comfort close capability
Flashing L.E.D
Indicator flash
Pin code override facility
Option to add touch key/receptacle override using 621 kit
Lifetime product warranty (Subject to Terms and Conditions)
---


Model Number: Laserline 289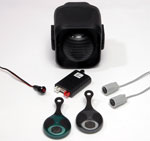 Compact Alarm

Features:
2 Random code 3 button remote controls with long life lithium batteries
Panic Facility
Single circuit immobilisation
High power battery back-up siren
Ultrasonic interior sensors (switchable)
Passive arming
Casual re-arm
Passive immobilisation
Universal central locking with comfort closure capability
Flashing L.E.D
Indicator flash
Pin code override facility
Option to add touch key/receptacle override using 621 kit
Lifetime product warranty (Subject to Terms and Conditions)
---


Model Number: Laserline 271IR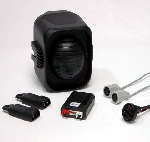 Compact Upgrade Alarm System
Utilises the Original Equipment Remote Controls

Features:
Utilises the original equipment remote controls
High power siren
Ultrasonic interior sensors with override facility
Passive arming
Casual re-arm
2 Override touch keys with disarm facility
Flashing interior L.E.D included with override receptacle
Indicator flash
Confort closure capability on specific vehicles
Lifetime product warranty (Subject to Terms & Conditions)
---


Model Number: Laserline 210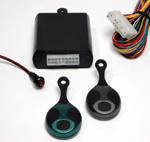 Modular remote control central locking/alarm upgrade system

Features:
2 Random code 3 button remote controls with long life lithium batteries
Universal central door locking with comfort closure capability
Panic facility when connected to a siren or vehicle horn
Flashing L.E.D
Indicator flash
Optional 3rd button output
Lifetime product warranty (Subject to Terms and Conditions)