Laserline Parking Sensors
"Let County look out for you!"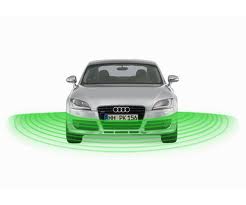 All parking sensors supplied and installed by us are manufactured by Laserline SPa.
These systems use the highest quality sensors for the most accurate detection and reliability. All sensors are fully waterproof and can be colour coded without affecting the performance of the system. All laserline parking systems are e-marked and used as an approved after market accessory by many vehicle manufacturers underlying their quality, accuracy and reliability values.
Model Number: Laserline EPS 4006


Four Rear Sensor Parking System

Features:

The sensors emit short pulses of ultrasound waves, which then rebound from obstacles within their field of view. The rebounded signals are then received again by the sensors. The central control units then evaluates the time delay of the rebounded signals and interprets the distance of an obstacle.

Four 18mm diameter ultrasonic sensors are installed into the rear bumper.

Once reverse gear is selected the main control unit provides distance information via a small speaker and L.E.D., which is mounted inside the vehicle.

Initial tones confirm the selection of reverse gear, as the vehicle reverses nearer to an obstacle the tones become more frequent and remain constant at approximately 30cm from the obstacle.

Internal speaker volume is adjustable between high and low.

Diagnostic feature.

External sensors can be colour coded if required, without affecting the performance of the system
Model Number: Laserline EPS 4006FD


Four Front Sensor Parking System

Features:

The sensors emit short pulses of ultrasound waves, which then rebound from obstacles within their field of view. The rebounded signals are then received again by the sensors. The central control units then evaluates the time delay of the rebounded signals and interprets the distance of an obstacle.

Four 18mm diameter ultrasonic sensors are installed into the front bumper.

When the vehicle is started the main control unit provides distance information via a small speaker and L.E.D., which is mounted inside the vehicle.

When the vehicle speed is below approx 10mph the sensors become active, as the vehicle drives nearer to an obstacle the tones become more frequent and remain constant at approximately 30cm from the obstacle.

Internal speaker volume is adjustable between high and low.

Diagnostic feature.

External sensors can be colour coded if required, without affecting the performance of the system
Model Number: Laserline EPS 8006


Front & Rear Sensor Parking System

Features:

The sensors emit short pulses of ultrasound waves, which then rebound from obstacles within their field of view. The rebounded signals are then received again by the sensors. The central control units then evaluates the time delay of the rebounded signals and interprets the distance of an obstacle.

Four 18mm diameter ultrasonic sensors are installed into each of the front & rear bumpers.

Once reverse gear is selected the main control unit provides distance information via a small speaker and L.E.D., which is mounted inside the vehicle.

Initial tones confirm the selection of reverse gear, as the vehicle reverses nearer to an obstacle the tones become more frequent and remain constant at approximately 30cm from the obstacle.

When the vehicle is started the main control unit provides front distance information via a small speaker and L.E.D., which is mounted inside the vehicle.

When the vehicle speed is below approx 10mph the sensors become active, as the vehicle drives nearer to an obstacle the tones become more frequent and remain constant at approximately 30cm from the obstacle.

Internal speaker volume is adjustable between high and low.

Diagnostic feature.

External sensors can be colour coded if required, without affecting the performance of the system